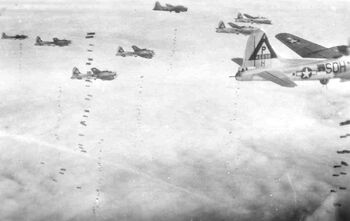 The
United States
in War Thunder is well represented, bringing many of the Second World War's most iconic fighters and bombers to the fight.  Most American fighters are relatively well-armored and feature several .50-caliber Browning Machine Guns with generous ammunition loadouts, allowing them to outlast their competition, and most aircraft are capable of carrying a sizeable bomb or rocket payload granting the versatility to engage ground targets as well.  American bombers are exceptionally durable, carry an enormous bombload and bristle with defensive guns, causing most fighters to think twice before engaging.  
All the armor, ammunition, and heavy payloads don't come without a price - even the most nimble American plane will feel sluggish to a pilot used to the agility of a Spitfire, and boom and zoom tactics are hampered by an only average climb rate among many of the aircraft.  The loadout of heavy machine guns enables continuous fire to be applied at length, but the lower burst mass and lack of explosive shells reduces the chances of a snapshot resulting in a quick kill. 
Subcategories
This category has the following 2 subcategories, out of 2 total.
Pages in category "American Aircraft"
The following 64 pages are in this category, out of 64 total.
A

B

F

F cont.

K

O

P

P cont.

R

S

T

X